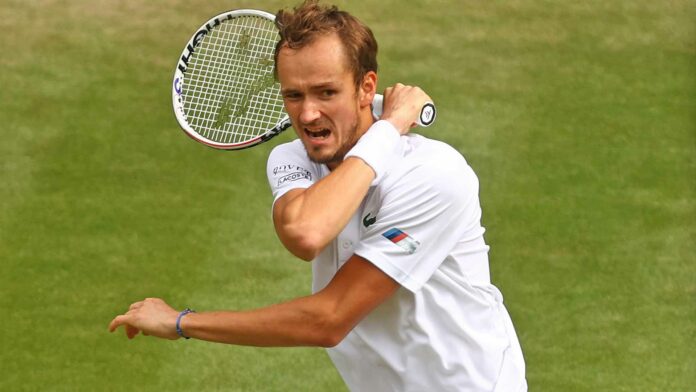 Daniil Medvedev may not be allowed to compete at Wimbledon unless he publicly denounces Russian President Vladimir Putin.
Medvedev, who is set to lose No 1 ranking after losing at Indian Wells, had called for peace after Russia's invasion on Ukraine and removed the Russian flag from his social media accounts.
ALSO READ: Daniil Medevev knocked out on day of upsets at Indian Wells
But UK sports minister Nigel Huddleston claimed he isn't comfortable with a Russian athlete competing at Wimbledon and flying the Russian flag if they were to win.
#kiddontstopdreaming pic.twitter.com/veNwRIkKnx

— Daniil Medvedev (@DaniilMedwed) February 27, 2022
This is despite all Russian and Belarusian athletes playing under neutral flags on the WTA and ATP Tour.
Sharpen your backhand with our FREE guide
"Many countries have agreed that they will not allow representatives from Russia to compete. There are also visa issues as well," Huddleston told a select committee in parliament.
"When it comes to individuals, that is more complex. Absolutely nobody flying the flag for Russia should be allowed or enabled."
ALSO READ: Naomi Osaka brought to tears by heckler
Huddleston went on to claim that assurances might have to be made before individual athletes could compete.
"We need some potential assurance that they are not supporters of Putin and we are considering what requirements we may need to try and get some assurances along those lines," he added.
ALSO READ: Alexander Zverev handed a suspended ban
Huddleston said he was discussing the issue with Wimbledon organisers, the All England Lawn Tennis Club (AELTC).
Ban on Russians
Many sporting bodies have banned Russian teams and athletes from competing. There are no athletes from Russia or Belarus allowed to compete at the Beijing Winter Paralympics.
Meanwhile, tennis's governing bodies decided to suspend Russian and Belarusian tennis federations and will not allow them to compete in team events.
ALSO READ: 'Need tougher santions,' Rafael Nadal on Alexander Zverev outburst
But individual Russian players are allowed to compete on the tour.
"It's always tough to talk on this subject because I want to play tennis, [to] play in different countries," the 26-year-old Medvedev had said earlier this month.
ALSO READ: Andy Murray to work with Ivan Lendl again
"I want to promote my sport. I want to promote what I'm doing in my country for sure, and right now the situation is that that is the only way I can play (without representing Russia)."
Kostyuk slams Russian players
Earlier this week, Ukranian player Marta Kostyuk had launched a stinging attack on tennis' governing bodies and Russian players on tour.
"What is happening on the circuit is very disappointing," the 19-year-old from Kiev said.
ALSO READ: French backflip opens Grand Slam door for Novak Djokovic
"No Russian tennis player came to see me, no one said he doesn't support this cause and no one apologized to me or any other Ukrainian player for what their country is doing.
"It's very shocking because we all know what's going on. I don't understand why the Russians behave like this.
ALSO READ: Tennis star Sergiy Stakhovky enlists in Ukraine's reserve army
"I am outraged to come to the club and see them there, their only problem right now is not being able to make money transfers and the scandalous thing is that they talk about it.
"It is unacceptable and I totally disagree that they should be allowed to continue competing.
ALSO READ: Davis Cup champions Russia banned from competition
Kostyuk has also been unimpressed by the response of individual players — such as Russia's men's world number one Daniil Medvedev — who deplore war but don't specifically condemn the invasion.
"You cannot be neutral in this. These 'No war' statements they hurt me because they have no substance."
ALSO READ: Ukraine's Elina Svitolina agrees to match against Russian rival