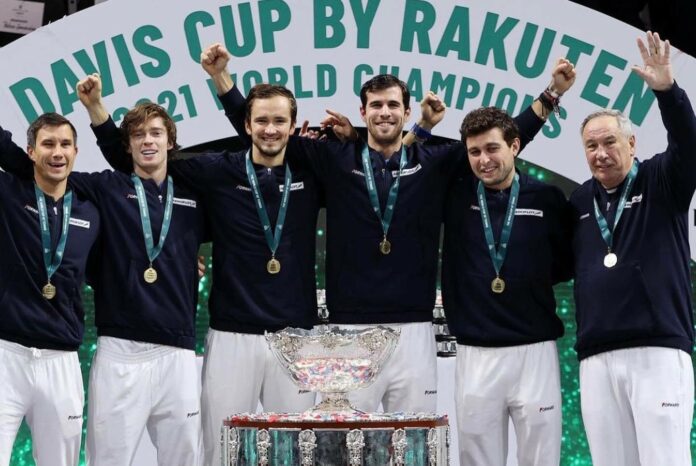 Russia will not be able to defend their Davis Cup title as tennis' governing bodies — the ATP, the WTA and the ITF– have banned the country from team competitions and suspended the Russian Tennis Federation and Belarus Tennis Federation membership.
On February 24, Russia invaded Ukraine and their aggression has been condemned by the sports world.
Sharpen your backhand with our FREE guide
The International Olympic Committee had urged all sporting bodies to take a strong stance against Russia. Tennis world has joined in their boycott of Vladimir Putin's Russia.
ALSO READ: 'They humiliated me on the world stage,' says Novak Djokovic
In a joint statement the governing bodies said they had decided on the following actions:
The WTA and ATP Boards have made the decision to suspend the WTA / ATP combined event, scheduled this October in Moscow.
The ITF Board has made the decision to suspend the Russian Tennis Federation and Belarus Tennis Federation membership and to withdraw their entries from all ITF international team competition until further notice. This action follows the cancellation of all ITF tournaments in Russia and Belarus indefinitely.
At this time, players from Russia and Belarus will continue to be allowed to compete in international tennis events on Tour and at the Grand Slams. However, they will not compete under the name or flag of Russia or Belarus until further notice.
Ukranian players score emotional wins
Ukranian players Elina Svitolina and Dayana Yastremska scored wins in Monterrey and Lyon respectively even as their friends and families face the horror of war back home.
On the mission ✊🏼🇺🇦 #Ukraine #StandingWithUkraine #Україна pic.twitter.com/D3FyuF6yXH

— Elina Monfils (@ElinaSvitolina) March 2, 2022
Top seed Svitolina defeated Russia's Anastasia Potapova 6-2, 6-1 in an emotionally-charged affair. Dressed in Ukraine's blue and yellow, she broke serve five times to win in 63 minutes flat.
"I was just focused, and on a mission for my country," she said. Svtiolina was the one who had urged the tennis bodies to take a stand against Russia or she would consider withdrawing from Monterrey.
ALSO READ: Alexander Zverev fined for ugly outburst in Acapulco
After the match, she reiterated that she would be donating her prize money to the Ukranian army.
Meanwhile in Lyon, Yastremska saved two match points before defeating Romania's Ana Bogdan, 3-6, 7-6 (7), 7-6 (7).
The hardest match of my life 🙏🏼 For 🇺🇦💙💛🙏🏼 pic.twitter.com/hQraSOzvvd

— Dayana Yastremska (@D_Yastremska) March 1, 2022
"My arms are shaking," she said after the match. "I would say simply: my heart stays at home and my mind is fighting here.
"This win, compared with everything going on in my country is nothing. I'm happy, at least, that I'm also fighting for my country."