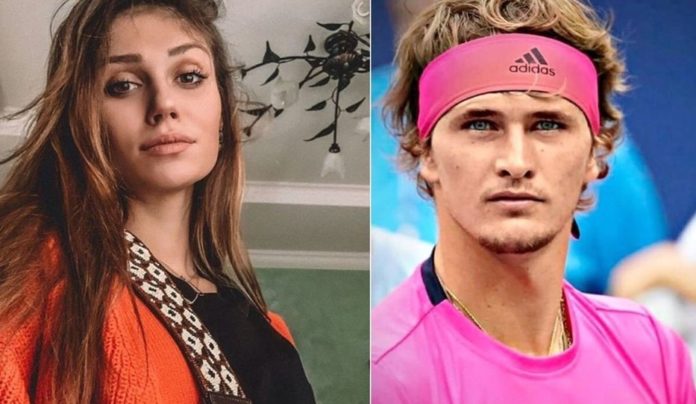 The ATP has made contact with Alexander Zverev's ex-girlfriend Olga Sharypova more than a year after she levelled domestic abuse allegations against the German tennis star.
The men's tennis governing body had formally launched an investigation into Olga 'Olya' Sharypova's allegations in October last year, but had not contacted her until Tuesday 29 March, according to journalist Ben Rothenberg.
ALSO READ: Nick Kyrgios berates umpire during Miami Masters defeat
Zverev has been accused of physically and emotionally abusing Sharypova on multiple occasions during their relationship, especially in 2019 during the US Open, Laver Cup and Shanghai Masters events.
The Tokyo Olympics gold medallist though has repeatedly denied any wrongdoing on his part, and continues to compete in international events including the Grand Slams.
Sharpen your backhand with our FREE guide
His latest appearance was at the Miami Open, where he was knocked out in the quarter-finals.
Zverev's ex-girlfriend Sharypova first made the allegations in an Instagram post on Wednesday, 28 October, 2020.
ALSO READ: Naomi Osaka hits back at Stefanos Tsitsipas over equal pay
Zverev and Sharypova had been dating for nearly a year leading to the 2019 US Open, and had also been romantically involved during their teenage years.
However, Sharypova alleged 'Sascha', as Zverev's called informally, had been growing increasingly abusive and toxic over the course of their relationship until the situation took a particularly dark turn in a New York hotel.
ALSO READ: Victoria Azarenka walks off court without giving reason
Zverev responded by categorically denying the allegations.
"The unfounded accusations of my ex-girlfriend Olga Sharypova…make me very sad. I very much regret that she makes such statements because the accusations are simply not true," Zverev said in a statement.
ALSO READ: Iga Swiatek is the new women's No 1
The ATP had maintained silence on the matter initially after Sharypova's allegations first surfaced, before coming out with a statement after two weeks condemning "any form of violence or abuse" without making a reference to the allegations against Zverev.
Nearly a year after the initial statement, though, the ATP finally decided to launch an investigation into the matter on 4 October 2021.
ALSO READ: Jenson Brooksby hits ballkid, gets away with it