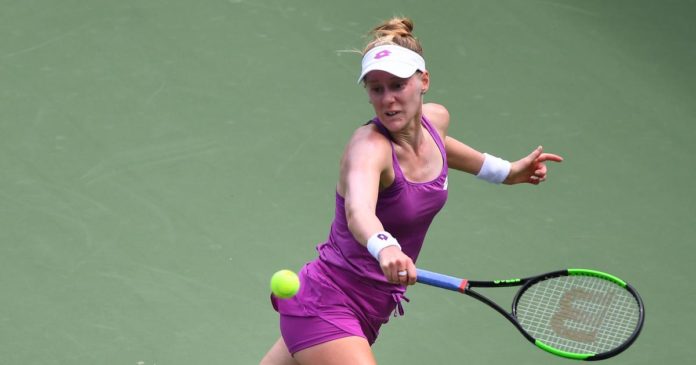 Alison Riske-Amritraj slammed the umpire for 'sleeping' during the match after he wrongfully awarded a point to her opponents during a doubles contest at the Australian Open.
Riske-Amritraj and her partner Linda Fruhvirtova were given a hindrance call for shouting, "Sorry!" against their Russian opponents Natela Dzalamidze and Alexandra Panova.
ALSO READ: Andy Murray stages epic comeback win
Riske-Amritraj struck the ball into the body of her opponent before quickly apologising.
She should have called it on herself & the umpire apologized for his incorrect ruling after, which I accepted. Poor sportsmanship and cheating happens all the time, especially at the junior level. Parents/players spend too much time, money & mental energy for that experience. 1/2 https://t.co/BJ4WzST7iu

— Alison Riske-Amritraj🇺🇸🇮🇳 (@Riske4rewards) January 20, 2023
As a result, match chair umpire Nico Helwerth awarded the point to Alexandra Panova and Natela Dzalamidze.
"Ladies and gentlemen, due to the hindrance Ms Riske-Amritraj has created, the point goes to Dzalamidze/Panova," said Helwerth.
Upgrade your serve with our FREE guide
The American could be heard saying "sorry" soon after the ball hit her opponent, although it was her belief they had won the point fair and square as Dzalamidze and Panova were unable to return the ball.
"Once it hit her, that's when I said sorry," Riske-Amritraj shot back at Helwerth.
ALSO READ: Novak Djokovic gets drunk fan kicked out for constant heckling
"I wouldn't have said sorry if I didn't hit her. It hit her leg, it didn't hit her arm or racket."
"If I don't see that, I cannot judge it," the umpire responded.
Replays showed that Riske-Amritraj had hit her opponent and the ball bounced off her opponent's body back over the net.
ALSO READ: Rafael Nadal 'mentally destroyed' after early Australian Open exit
But chair umpire Helwerth was of the opinion that contact had been made with a racquet.
The American called for a supervisor, who was unmoved, saying the call was the umpire's to make.
ALSO READ: Naomi Osaka reveals she is pregnant
Riske-Amritraj exploded, saying, "What the hell is he doing up there, then? That's f****** ridiculous. That's ridiculous. Is he sleeping? I wouldn't say sorry."
"The way you see it, the way you see it. I'm sure you see it that way," Riske-Amritraj continued in a mocking tone of the umpire.
ALSO READ: Emma Raducanu leaves court in tears
"That's ridiculous. That's absolutely ridiculous. Pay attention dude. That's tennis 101."
Though they lost the point, Riske-Amritraj and Fruhvirtova rallied to beat Dzalamidze and Panova, 6-7 (4), 6-4, 7-5.