After years of dealing with mental health issues, Robin Soderling has recently started opening up about how crippling they were and how he dealt with them.
In a recent column for the official ATP website, the Swede, who retired from tennis five years ago at the age of 31, has detailed when and how panic and anxiety attacks started affecting his life.
ALSO READ: Why Sam Stosur revealed her secret to the world
"As a player I never had any anxiety," wrote Soderling, whose biggest claim to fame was beating Rafael Nadal in the fourth round of the 2009 French Open.
"Of course, I was nervous like everyone else before matches, but I never had a panic attack. In one of the biggest matches of my career, I even felt great.
"At 2009 Roland Garros, I became the first player to beat Rafael Nadal at that Grand Slam championship. I went into the match with absolutely nothing to lose and everything to win. I didn't know how to play with topspin anyway, so I just played even flatter. I didn't care if I missed.
ALSO READ: Players don't want to become friends, says Tsitsipas
"I knew I wouldn't win if I didn't take my chances and that day it worked out really well. I was playing so freely. That was an amazing feeling."
"That's the complete opposite to how I felt when I was Top 5 in the world. Basically every match I played I was the favourite, which made it that much tougher. I was playing way too much at the end of my career not to lose instead of playing to win."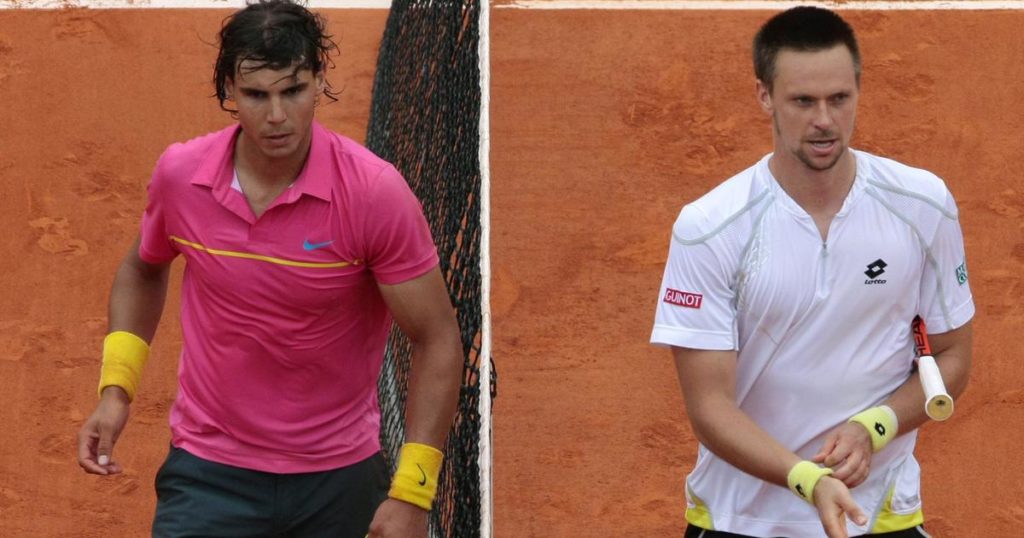 Soderling made it to the finals of the French Open in 2009 and again in 2010. But he says the 2011 Swedish Open in Bastad, which we won without dropping a set, is where things started taking a turn for the worse.
"I wanted to crawl out of my own skin," the 35-year-old said.
"In 2011, I was in the best physical shape of my life. I was one of the five best players in the world and I had won four titles by the end of July. But from one day to another, I couldn't take a step. I couldn't breathe.
ALSO READ: What 'disgusted' Sharapova during the doping ban
"I was competing in Bastad, in front of my home fans, and I wasn't feeling well the entire week. I was so wired up. I had a tonne of energy, but not positive energy. I couldn't find a way to calm myself down, and I only managed to sleep a couple of hours every night.
"The problems started with my immune system. I often got sick, catching a lot of colds, sore throats and fevers. I would get really dizzy and had trouble sleeping. But I was one of the people who thought I'd never crash.
"If I can help just one player, one person, that's enough for me." 🙏@RSoderling gets candid about his mental health on the tour in this week's #TennisUnited 👇

— ATP Tour (@atptour) July 31, 2020
"When I heard about them, I said, 'Yeah, but that just happens to weak people.' I was the perfect person to have a burnout because I was not listening to my body at all. I was pushing to – and past – my limits, which is how I've been doing things my whole life since I was a kid. I love to train hard. My only answer to setbacks was pushing harder. Striving for perfection meant putting results ahead of my own well-being.
"Little did I know I would never play a tournament again."
ALSO READ: I need to start earning a living again, says Millman
The Swede played only 14 tournaments in 2011 and cut the season short after he was diagnosed with mononucleosis. Never quite recovering from that, Soderling finally announced his retirement in 2015.
"Athletes speak about injuries all the time, but we never discuss mental illness," he says. For Soderling, it is a 'closed chapter' in his life, but he has recently started talking about it to help others navigate through the tough times.
"There's no shame in speaking about mental illness," he says.
ALSO READ: Kyrgios v Coric, the feud continues
"The thought of helping one player or one person is enough for me. When I started dealing with this issue, there was no example for me to look towards. Nobody out there publicly made it seem like it was okay to deal with mental illness.
"It's not just about performing today or tomorrow, it's about having a long career and feeling well, too. This isn't just about your next tournament or assignment, it's about your quality of life."