In her bid to win her first major, former World No 1 Karolina Pliskova has hired Sascha Bajin as her coach for the coming season. Bajin, who has worked with players like Serena Williams, Naomi Osaka and Caroline Wozniacki, hopes he can help Pliskova get over the mental barrier of winning a Grand Slam.
Though Pliskova, 28, has been knocking on the door for the past few years now she hasn't been able to win a Grand Slam yet. She has won 16 singles WTA titles, reached the finals of the US Open in 2016 and has made it to the semi-finals at Grand Slam twice.
ALSO READ: ATP, WTA working together is the 'right thing to do'
"I don't think it's a secret," Bajin said in an interview with tennisnet.com.
"If you have won every other title on the tour and you have beaten all of the players before, it must be some kind of mental barrier that is keeping you from playing your best tennis in the Grand Slam, I think or at least hope that I can help her with this."
Sharpen your forehand with our FREE guide
Bajin was Osaka's coach when she won her first two majors: the 2018 US Open at the age of 20 and the 2019 Australian Open.
"If you have already been to the summit or have achieved something big, you know what it feels like," the German coach said.
ALSO READ: Suarez Navarro returns to tennis during cancer treatment
"The trust in a coach who has worked with a multiple Grand Slam winner is a little different. The clear goal is to win a Grand Slam tournament. I hope I can help her with this. So far she may have put too much pressure on herself and hopefully we will stop that."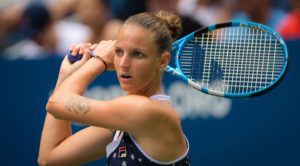 Currently ranked No 4 in the world, Pliskova has been one of the most consistent players on the tour for the past few years. She has the serve and the big groundstrokes to make a big dent in the draw, but she hasn't quite been able to deliver the goods on big occasions.
ALSO READ: Naomi Osaka named Sports Illustrated Sportsperson of the Year
The pressure to deliver a major seems to have got the better of her this year. The Czech player, who stands at 6'1, lost in the third round at this year's Australian Open and suffered an early second-round exit at the US Open and French Open.