The controversy around Alexander Zverev refuses to fade away. John McEnroe and Reilly Opelka mocked him while former player Mary Carillo has quit as a presenter during the Laver Cup due to the domestic violence allegations against the German.
ALSO READ: Dominic Thiem responds to Alex Stober allegations
"In the end I just felt like I'd be complicit in the whitewashing of very serious allegations," Carillo stated. "I couldn't be part of it."
Last October, Zverev''s former girlfriend Olga Sharypova had alleged that Zverev had physically abused her on multiple occasions.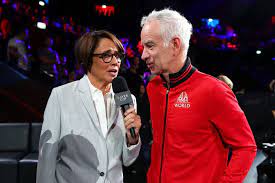 During a series of interviews, the former Russian player also said that during the 2019 Laver Cup in Geneva she attempted suicide, by taking insulin shots, to escape the toxic relationship. A Laver Cup official had reportedly saved Sharypova's life.
Upgrade your serve with our FREE guide
Despite the incident happening during the ATP sanctioned exhibition event, the Laver Cup officials as well as the men's governing body have decided to turn a blind eye to it.
Zverev is part of this year's Laver Cup event, which in underway in Boston. Inspired by the Ryder Cup and championed by Roger Federer, the tournament pits Team Europe versus Team World.
ALSO READ: Tennis stars take Met Gala by storm
On Saturday, Team World captain John McEnroe and player Reilly Opelka mocked Zverev.
After Denis Shapovalov and John Isner won the doubles match to claim the first point for Team World, McEnroe heard Zverev saying that it was the last point they would win.
ALSO READ: 'The worst is behind me,' believes Roger Federer
This was the conversation with his team:
McEnroe: "F**k this guy."
Isner: "He said that? F**k him…"
Diego Schwartzman: "What did he say?"
McEnroe: "He said that's the last point we're gonna win."
Opelka: "He also said he's innocent."
McEnroe: "Yeah, good point. F**k this guy."