Tennis legend Billie Jean King, the main figure behind equal pay for women in tennis, will now lend her name to the most prestigious women's team competition in the sport: the Fed Cup.
The inaugural 12-team Billie Jean King Cup Finals will take place in Budapest, Hungary, in April.
ALSO READ: Thiem's former coach to sue the player's family
"It's very exciting. I'm still not sure it's true," the 76-year-old King has been quoted saying by the BBC.
While she won 39 Grand Slam titles, in singles and doubles, Jean King is also widely known for beating Bobby Riggs in the 'Battle of the Sexes' match in 1973. She relentlessly worked towards equal pay for female tennis players and is the founder of the Women's Tennis Association.
Be Bold!#BillieJeanKingCup https://t.co/RtXinVcHu9

— Billie Jean King (@BillieJeanKing) September 17, 2020
This is the first time that a global competition will be named after a woman.
"Then my mind always turns to what I want to accomplish – let's get going. It's really an honour and I'm very grateful," King said.
Upgrade your serve with our FREE guide
"I remember the first Federation Cup in 1963. I love history and I remember saying, 'We have to make it this year, we have to win the very first one, it's historical'. And [my team-mates] were like, 'OK, OK, already'.
"And we did win and it was really special. When I see the Fed Cup trophy today I look at the first one and I think about us. I remember how excited I was."
ALSO READ: Petulant Paire throws in the racquet, twice
The United States is the most successful team in Fed Cup history, having won the tournament 18 times. King won seven Fed Cups as a player and four as the US team's captain.
"From playing the first Fed Cup as a member of the victorious US team in 1963, founding the WTA and becoming its first president, to being the first female athlete awarded the US Presidential Medal of Freedom, Billie Jean King has never stopped breaking new ground," said ITF president David Haggerty.
'Osaka is special'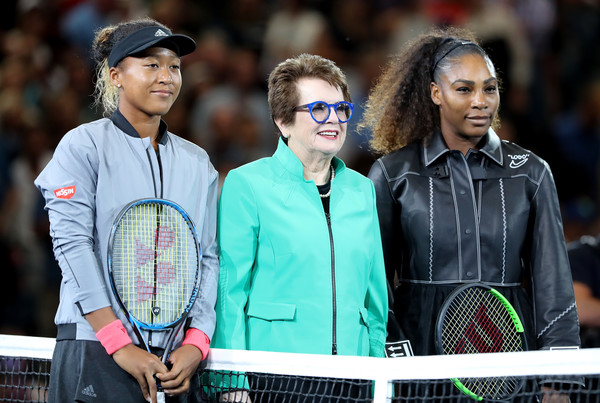 In an interview with Reuters, King lauded the newly crowned US Open champion Naomi Osaka, saying women's tennis is lucky to have a leader like her.
"She is already huge on and off the court. She is very humble and really looks at you when you talk to her and takes in the information and comes up with an authentic response," King said of Osaka, whose mother is Japanese and father Haitian.
ALSO READ: Not winning a major hurt my feelings, says Osaka
"In many ways Naomi is a product of the Original Nine. Think about that, she is what we fought for. That if you're good enough you will have a place to compete, wherever you are from.
All the people that were telling me to "keep politics out of sports", (which it wasn't political at all), really inspired me to win. You better believe I'm gonna try to be on your tv for as long as possible.

— NaomiOsaka大坂なおみ (@naomiosaka) September 15, 2020
"She is fantastic for the sport. But don't forget Serena (Williams) and Venus also spoke out and continue to speak out for women of colour and Venus fought for equal prize money.
"People forget because they go on to the new one. But Naomi is really special and I really think she will be an amazing leader through the years because she cares. We are very fortunate to have her in our sport."