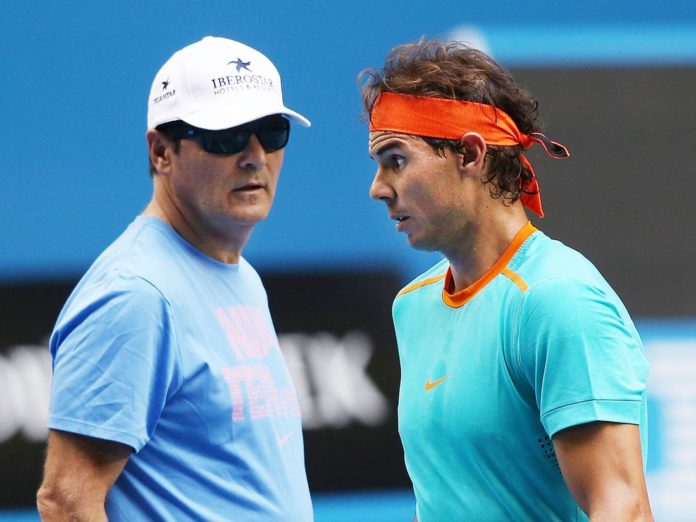 Uncle Toni (Toni Nadal) will sit out Sunday's fourth-round clash between his ward Felix Auger-Aliassime and his nephew Rafael Nadal.
"My nephew is my nephew", the Spaniard told ATPTour.com on Friday in Paris.
ALSO READ: Iga Swiatek is only top-10 seed standing in French Open women's field
"I told Felix that when he asked me to work with him. I want Rafael to win. If he were to lose, it would be a less painful loss because the player I work with would win, but I don't like to deceive anyone.
"I'm Rafael's uncle and he's more than just a distant nephew. If Felix played against my son… I wouldn't want him to win. This is the same."
Sharpen your backhand with our FREE guide
On top of being the uncle of the player with the biggest haul of Grand Slam titles in history, Toni Nadal was Rafael Nadal's coach from four years of age until 2017, when he decided to step aside.
A while later, the Mallorcan coach started a new phase of his career with Auger-Aliassime, joining his team as an advisor.
ALSO READ: Irina-Camelia Begu racquet smash nearly hits young fan
The Spaniard and Canadian will cross swords in the fourth round at Roland Garros for the first time since Toni accepted the challenge of helping Auger-Aliassime.
For that reason, on Sunday, Toni will not be in either player's box.
ALSO READ: Simona Halep suffers panic attack during French Open defeat
"I am in no doubt that Toni wants the best for me," Nadal said later.
"I also don't have the slightest doubt that, even though he's working with a different person, it's difficult for him not to want me to win," he added.
ALSO READ: Carlos Alcaraz scripts great escape at French Open
"Because of everything we've experienced together and that we feel as family, above everything else, added to everything we've been through in our lives.
"He'd already told me before that he wouldn't be in the box on the day of the match. If he had been, it wouldn't create the slightest problem for me because I am in no doubt about his feelings."
ALSO READ: Andrey Rublev in ugly French Open meltdown
Nadal is in search of a historic 14th Roland Garros title and 22nd Grand Slam trophy.