Paul Annacone, who has coached Pete Sampras as well as Roger Federer, believes Dominic Thiem needs to figure out what is going to be his driving force in the sport.
The Austrian has been struggling physically as well as emotionally of late. After winning the US Open last year, Thiem admitted that he 'fell in a hole' during the off-season.
ALSO READ: Benoit Paire banned from Tokyo Olympics
"When you get to that level where he is, now it's like: 'Now what?' Roger and Pete both talked to me a lot about the difference between getting there and staying there," Annacone told The Tennis Channel.
"And I think that once you get there there's another evaluation of: 'Hey, where do I go from here, what do I do and what gives me the joy of doing it? Is it the pursuit or is it the accomplishment?'
Sharpen your forehand with our FREE guide
"Those are the things that Dominic Thiem has to realize. I think everyone does it for a different reason.
"Pete was all about excellence, accumulating all the trophies and Major titles. Roger lives the life and loves the life. Thiem's got to figure out what is it for him, what's gonna keep driving him."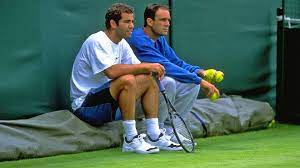 The star coach also said that the Austrian will need some time to settle in after winning his first major.
"The one other thing that resonates with me a little differently, is that I remember talking to Pete Sampras when he won the US Open for the first time – something he had been chasing his whole life," he said.
ALSO READ: Having beaten cancer, Carla Suarez Navarro targets French Open
"He won it and it kind of took him a couple of years to settle in, to go 'Okay this is what I'm doing' because after he won he went through a whole process of 'Why do I play, what do I want to do, this is what I do'.
"It took him a while to get comfortable, so I wonder if that is part of the equation for Thiem right now as well."
ALSO READ: Fabio Fognini disqualified from Barcelona Open
A two-time French Open finalist, Thiem lost in the quarterfinals of 2020 Roland Garros and in the round of 16 at the Australian Open this year.
He has a disappointing 5-4 win-loss record in 2021 and was stunned by South Africa's Lloyd Harris in the second round of the ATP 500 event in Dubai.
ALSO READ: 'Not obsessed:' Novak Djokovic dismisses Rafael Nadal claim
Thiem, ranked No 4 in the world, is expected to return to action next week at the Madrid Open in what will be his first clay event of the season.