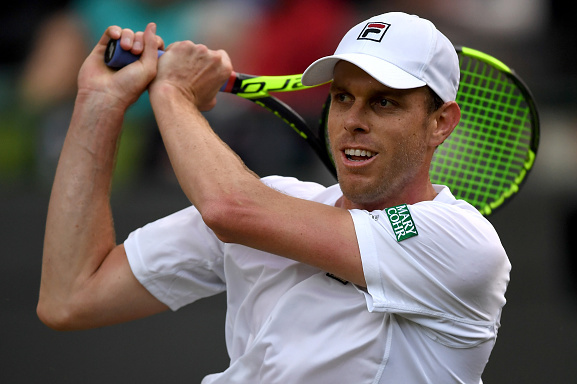 There is another Covid-19-related scandal in the making in tennis: this time involving Sam Querrey. The American is in serious trouble after reportedly violating not just ATP health and safety protocols but also international guidelines.
Querrey allegedly fled St Petersburg, where he was supposed to play an ATP tournament, with his family in a chartered plane after having tested positive for Coronavirus in Russia.
ALSO READ: Murray falls to Verdasco in straight sets
Querrey, the World No 49, was withdrawn from the St Petersburg event as he had tested positive for Covid-19 on arrival, along with his wife and eight-month-old son.
According to Argentine website BA Times, tournament organisers have made provision for the players to take a second test, in case the first is a false positive.
Sharpen your backhand with our FREE guide
The tournament had apparently agreed to Querrey's request that the second test be delayed by a day since his son was not feeling well. But when the people concerned went in search for him, the 33-year-old was neither in his room or his hotel.
The website further claimed that the organisers later found out that Querrey had 'chartered a private plane and flew to Canada,' along with his wife and son.
ALSO READ: Ilya Ivashka penalised for emergency toilet break
Without naming names, the ATP said in a statement that a player had been found in a 'serious breach of protocol'.
"The ATP is aware of an incident regarding a player's serious breach of protocol relating to Covid-19 at this week's St Petersburg Open," the men's governing body said.
ALSO READ: 'Ambitious' Goran Ivanisevic made to eat humble pie
"In accordance with the ATP's Code of Conduct we are taking this matter extremely seriously and an investigation is underway."
The American had recently left the ATP Player Council and joined Novak Djokovic's breakaway player body Professional Tennis Players Association.
ALSO READ: Andy Murray joins ATP Player Council
If it is indeed true, and Querrey has crossed international borders while infected with the novel virus, he would be in breach of far more than ATP rules and regulations and may have put people's health at risk.
On Wednesday, Fabio Fognini also revealed that he had tested positive for Covid-19 at an ATP event in Italy and was already in self isolation.