Britain's Cameron Norrie reached his first Masters 1,000 final at Indian Wells as he breezed past Bulgarian Grigor Dimitrov in straight sets.
The world number 26 dominated the semi-final to win 6-2 6-4 in California.
ALSO READ: Comeback king Grigor Dimitrov in Indian Wells semis
Norrie is aiming to become the first Brit to win the Masters 1000 hard-court event and will carry a 1-0 lead into his meeting with Basilashvili, having defeated the World No. 36 in Rotterdam in March.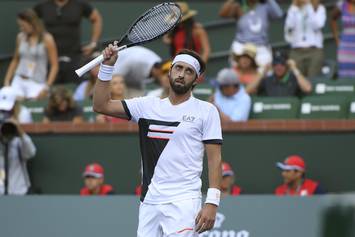 Basilashvili will also be competing for the biggest title of his career on Sunday after he moved past American Taylor Fritz in straight sets to advance to his maiden Masters 1000 final and become the first Georgian to reach the championship match at this level.
Upgrade your serve with our FREE guide
Norrie or Basilashvili will become the sixth different player to win a Masters 1000 title this season, joining Hubert Hurkacz, Stefanos Tsitsipas, Alexander Zverev (twice), Rafael Nadal and Daniil Medvedev.
Before this year, the Londoner had never won a main draw match in two previous appearances in Indian Wells.
ALSO READ: 'Just get rid of mixed doubles,' says Reilly Opelka
Following his semi-final victory over Grigor Dimitrov, Norrie became only the fourth Brit to reach the final in California.
"I think it's very special, especially looking at the other names, Greg, Tim and Andy, all British tennis icons and legends. To be added to that list is extremely special for me," Norrie said.
ALSO READ: ATP to investigate charges against Alexander Zverev
"The last two days have been the biggest matches of my career, so I'm going to go out there and it's going to be my biggest match of my career again.
"There's a lot of work to be done. I'm looking forward to the occasion. Feeling all the nerves and all the pressure, it's definitely great to experience that."
ALSO READ: Kim Clijsters loses in the opening round at Indian Wells
On facing Norrie, Basilashvili said: "(He is a) really interesting player. He's playing very well at this tournament. He had previous really good weeks. I will study him today and come up with a plan.
"But overall, he's not so nice to play against from the baseline. He's been playing really, really smart and very good tennis. I'm looking forward. If I can play my game and be relaxed, I think I can play well."
ALSO READ: Andy Murray's wedding ring, lost and found