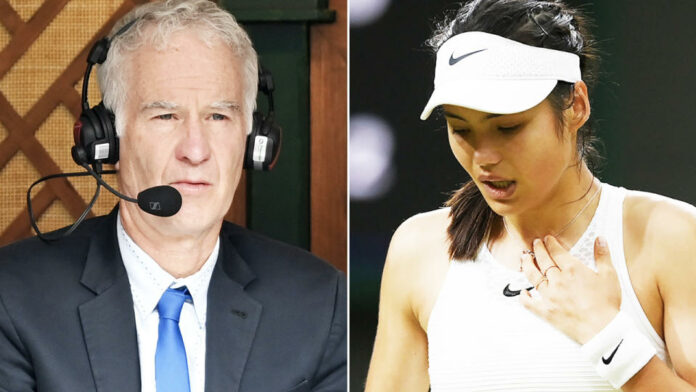 Former Wimbledon champion John McEnroe was slammed for suggesting that Emma Raducanu found playing in the last 16 of Wimbledon "a little too much."
The British teeange wildcard, who had been on a fairytale run at her home Slam had to retire from her Round of 16 match against Ajla Tomljanovic on medical grounds.
ALSO READ: Five players who made Grand Slam breakthrough on Manic Monday
But McEnroe believes she retired because she could not handle the occasion.
Think this is a very harsh take on the situation Piers https://t.co/rGuWC5ScDT

— Andy Murray (@andy_murray) July 6, 2021
No question mental toughness can be what separates the best in sport but surely both of you aren't judging her mental toughness on yesterday's match?! https://t.co/83tLG5F9ca

— Andy Murray (@andy_murray) July 6, 2021
"I feel bad for Emma, obviously," said McEnroe.
"It appears it just got a little bit too much, as is understandable, particularly with what we've been talking about this over the last six weeks with Osaka not even here."
Upgrade your serve with our FREE guide
Raducanu appeared to suffer stomach cramps and be hyperventilating before pulling out at 0-3 down in the second set.
Piers Morgan stormed off GMB when asked questions, John McEnroe was known to throw tantrums at Wimbledon. Both epitomise brattish men who cannot take pressure. But, sure, let's listen to them castigate an 18-year-old and her health. pic.twitter.com/en2N4yYfDc

— Sonia Poulton (@SoniaPoulton) July 6, 2021
Listening to the John McEnroe commentary about Emma Raducanu. Two things: 1. Is he drunk? 2. Is there anything more annoying than a man telling a woman she's not hurt she's just emotional? No, no there isn't. Please ask him to stop. #Wimbledon

— Harriet Minter (@HarrietMinter) July 5, 2021
"How much can players handle?" he said.
"It makes you look at the guys that have been around and the girls for so long – how well they can handle it. Hopefully she'll learn from this experience.
ALSO READ: How Roger Federer inspired history-maker Ons Jabeur
"I don't think it helped that the previous match went as long as it did because it made her think about it more," he added, of her third round win over Sorana Cirstea.
"That's a lot to take on, especially when you've never been there before.
Tennis Tweet on #Wimbledon – but how can John McEnroe come out with those comments not knowing anything about her retirement from the match?!

— Rob Vickerman (@robvickerman) July 5, 2021
"Maybe it's not a shame this has happened right now when she is 18. I played this tournament at 18 and in a way I was happy I lost. I was able to understand what it would take to make it."
After being told about McEnroe's comments, Tomljanovic said they were "definitely harsh".
ALSO READ: 'She's lying': Tomljanovic accuses Ostapenko
"I can't imagine being in her shoes at 18 playing a fourth round in your home country," she added.
"It's something I can't even imagine. For him to say that, it's definitely harsh. I have experienced something similar but not to that extent.
I didn't realise John McEnroe was medically qualified or that he has X-ray vision! I hope Emma Raducanu is ok and wish her a speedy recovery. Did her country proud 🇬🇧

— Dr Alex (@DrAlexGeorge) July 5, 2021
"I know that it's a real thing. I've spoken to athletes that have gone through that. It's not easy."
ALSO READ: Boris Becker to Naomi Osaka: "Where's the pressure?"
McEnroe was also criticised on social media with Dr Alex George, an A&E doctor, tweeting: "I didn't realise John McEnroe was medically qualified or that he has X-ray vision!"